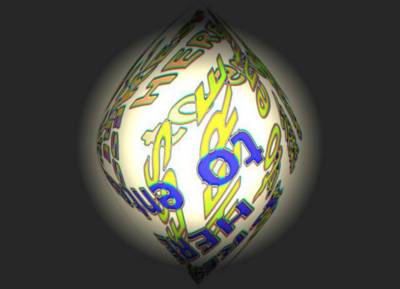 "light bolb" digital art copyright 2004 by steven streight
Article #1
of the
"Develop Unique
Blog Voice: via ______ "
series.
Let's see what we can learn about "unique voice" for our blogs...
...by considering some beatnik, avant garde, modernist, post-modern, and other types of creative writers.

(1.) We are Born Unique.
Each of us is an original.
We are born unique. Deep down inside, we remain unusual, atypical, as rare as a snowflake pattern that occurs once, briefly, then is submerged into its element...
...and is never identically repeated, never again, throughout all eternity.
(2.) Yet We Have Difficulty Sounding Unique.
So why is it difficult to forge your own distinct identity, your own unique voice, in a blog?
Why do so many blogs seem like almost anybody could have written it?
Why is it that if you quote a famous blogger, even a few full paragraphs or several complete posts...
...it may be difficult to distinguish this one from all the 12 million others?
Our distinct, separate, idiosyncratic personalities get diluted with influences from our peers, friends, family, classmates, work associates, and neighbors.
(3.) Develop a Unique Blog Voice...

...with Help From Unique Voiced Writers

It can eventually become necessary to gain inpiration from certain very unique, special, uncommon, extraordinary "voices", writers, or authors.
Let's look at a few interesting samples of text by writers who stand out from the crowd.
Maybe their one-of-a-kind written communication style, or quotes by them on the process of writing, will help us get our writing to where it doesn't sound like anyone else.
Kenneth Patchen BIO [from dust jacket]:
Author of more than 40 books of poetry, prose, and drama; creator of hundreds of handpainted books, papier-mache animal sculptures; drawings; pioneer of the poetry-and-jazz movement: Kenneth Patchen's literary legacy belies a life whose last 30 years were racked with physical pain and the moral indifference of the world around him.
[QUOTE, p.47]
I asked Patchen what he had meant when he saind earlier that sickness had a strange effect on him.
"I used to get pneumonia regularly every year," he said with a sigh. "Even now, injustice and cruelty upset me to the point of becoming really sick."
Mrs. Patchen who now was emptying the ashtrays, remarked with childish incredulity, "He gets delirious at the slightest illness. And he raves something terrible!"
Patchen was gazing absently out the window, flicking his cigarette impatiently.
I asked him if writing came easily.
"Writing exhausts me," he said. "I have a real sense of being attacked by the conditions under which I write. When I start to work on something, I work 12 or 13 hours at a stretch. Right now I'm working on two prose works and some poetry--simultaneously."
[snip]
I glanced at the manuscript....I noticed that although the book began with Chapter 1, the introduction was somewhere in the middle.
Why was that, I asked.
"An introduction is supposed to summarize for the reader what the book is about," he said, raising his eyebrows. "It should be put in when the reader has had a chance to gather the threads of the story together for himself."
[snip]
"The primary aim of the creative artist," he began slowly, looking at me steadily, "is to protest. Out of that protest will come whatever validity there is in art. It's not just going on record against something--that's journalism. It must be more than an intellectual thing; it must affect the artist's whole being.
What should the artist protest against?
"The artist must protest against evil. He must point at the specific evil in society and write against it." He banged his fist on the hard surface of the bed for emphasis.
Then, I asked, what made the artist different from a reformer?
"The hallmark of a reformer is to compromise his means to achieve his ends. But the hallmark of the artist is to make no compromise for any reasons."
I asked Patchen if he was a romanticist or a realist.
He looked annoyed.
"Art itself is an attack on labels," he snapped. "I can't be classified. No real artist can be..."
--KENNETH PATCHEN: A Collection of Essays. Forward by Miriam Patchen. Edited and with an introduction by Richard Morgan. AMS Press Inc., New York, 1977. From "The Most Mysterious People in the Village" by Holly Beye and William McCleery.
[END QUOTE]
For a writer with a distinctive "voice", even the titles of works will be interesting, intriguing, and ususual.
BOOKS by Kenneth Patchen include:
First Will and Testament
(1939) poetry
The Journal of Albion Moonlight
(1941) prose

Cloth of the Tempest
(1943) poetry
An Astonished Eye Looks Out of the Air
(1946) poetry
A Letter to God w/ Patchen a Man of Anger and Light
(1946) prose
Sleepers Awake
(1946) poetry
Panels for the Walls of Heaven
(1946) prose
In Peaceable Caves
(1950) poetry (never distributed)

Surprise for the Bagpipe Player
(1956) portfolio of silk-screen prints
Hurrah for Anything
(1957) poems and drawings
Because It Is
(1960) poems and drawings
Aflame and Afun of Walking Faces
(1970) prose-poems
Wonderings
(1971) picture-poems
In Quest of Candlelighters
(1972) prose
NOW...what do you think?
Do you find Kenneth Patchen a "unique voice"?
How do you develop your distinctive blogging voice?
Do you just write any way you want...or do you really work on being unique, entertaining, authoritative, or creative?
In what way is your blogging "creative", "innovative", or "distinctive"?
What other unique writers do you like?
Post a comment and let me know.
Thanks.